Hello all, welcome to our second newsletter, designed to track our progress towards competing in the 2009 Indian Ocean Race.

We are excited to announce that our boat launch is being held at the Captains Club Hotel in Christchurch, Dorset on Saturday 23rd August. Superbly located in the heart of Christchurch, the Captain's Club Hotel is positioned on the banks of the River Stour at Christchurch Quay.

There will be a champagne reception and buffet on the terrace whilst a band and special guests provide entertainment. Please put the date in your diary and contact us to purchase your ticket.

Thanks to Matt Young, we now have a logo that we are going to use on all our publications and for our sponsored clothing. No its not a feather!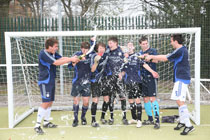 April saw the first of 4 Six-a-side football tournaments held at K2 leisure centre Crawley. The day was a great success raising over £1200. 10 teams participated. The winning team Chelsea CITC took the trophy home and won a corporate membership to Spearmint Rhinos worth over £1000! Well done boys. Tom (Duff) was top goal scorer winning a golden boot.

We are working alongside Orchid, the only UK registered charity that focuses entirely on the male-specific cancers; prostate, penile and testicular. They fund medical research and promote awareness about these cancers.

Once we have covered our expenses we will use all additional funds to support Orchid. Before this time we will help to promote awareness of the male cancers, this is crucial in helping to recognise signs of the cancers - a simple self check can identify early signs of testicular cancer; which if caught early is 98% treatable.

To find out more about Orchid and the male cancers, or how you can help to raise funds and promote awareness to help fight male cancer please visit their website.

www.orchid-cancer.org.uk
or telephone 020 7601 7167